FOREST FOTO EXPEDITION
Showcase of Participant Photos
from June 4, 2019
FOREST FOTO EXPEDITION
Showcase of Participant Photos
from June 4, 2019
On June 4, 2019, WSU Extension in Kitsap County hosted a Forest Foto Expedition led by John F. Williams. We met at Newberry Hill Heritage Park in Silverdale. A park steward, Frank Stricklin, joined us to provide some background information about the forest we were walking through.
Participants were invited to submit some of their photos to Salish Magazine, and here are the ones we decided to publish.
First, since mushrooms are a big part of this issue, here are a few mushroom photos.
Click on any of the photos to see the photo gallery full size.
One of the interesting challenges of photographing in the forest is capturing just how big the trees are. Often if you get far enough away from a specific tree to fit it in the viewfinder, lots of other trees get in the way. Occasional wide trails or clearings offer some space to step outside that "can't see the forest for the trees" dilemma.
Another challenge seen above and below is the dramatic difference in brightness between a sunny sky and the darker parts of a forest — a larger range of brightnesses than the camera can capture.
And it was almost summer, so some flowers were blooming
Salal Flowers by Val Martinson
The above photos were submitted by participants of the First Forest Foto Expedition offered by  WSU Kitsap County Extension on June 4, 2019. Thanks to everyone who participated, and to Amy Linhart of WSU Extension for organizing the event.
Table of Contents, Issue #5, Autumn 2019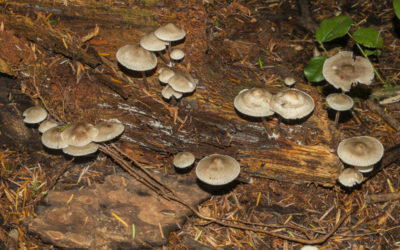 by David Ansley, Autumn 2019 Photos by John F. Williams, except where notedPhoto by John F. WilliamsBy David Ansley, Autumn 2019 Photos &  video by John F. Williams except where notedMushrooms? I don't know how I missed them. I grew up deep in a second-growth...
PLEASE HELP SUPPORT
SALISH MAGAZINE
This is one way you can help us inspire people with stories about things that they can see outdoors in our Salish Sea region.
Thanks so much for your interest and your support. 
In case you hadn't noticed, Salish Magazine contains no advertisements to distract from the stories we bring you about our natural world. But the costs of producing and delivering the magazine have to be paid somehow.