MUSHROOMS: A PHOTO ESSAY
by John F. Williams, Autumn 2019
Photos & video by John F. Williams except where noted
MUSHROOMS: A PHOTO ESSAY
By John F. Williams, Autumn 2019
Photos &  video by John F. Williams except where noted
introduction
This issue contains a couple of very informative articles about mushrooms and some other articles about things that are closely tied to mushrooms in our forest ecosystem.
This photo essay showcases some additional photos I had, especially ones that raise some informal questions or observations
animals and mushrooms
That's a pretty big chunk missing from the mushroom above! I don't know who's eating what, but here are some more pictures that raise questions.
And it seems like it's not all that unusual to find insects perched on mushrooms. What are they doing there? Resting, or getting ready for a meal?
It looks like there's been some munching action going on here…
Here's a short video by Cameron Snow showing some mushroom harvesting, and that's followed by some photos showing mushrooms changing with age.
Below is a brief look at how some puffball mushrooms change as they grow up, starting with the youngest and ending with mature puffballs ready to broadcast their spores.
John F. Williams, publisher of Salish Magazine: over decades of exploring underwater and in our forests and beaches, my experiences have been enriched by the insights of knowledgeable people. What I learned from them dramatically changed the way I see things,
I shared those insights by making educational films and through lecture tours. Now, I've created Salish Magazine to extend that notion of sharing insights by offering a wealth of articles that are keyed to the observable, but pull back the curtains to reveal the invisible.
Table of Contents, Issue #5, Autumn 2019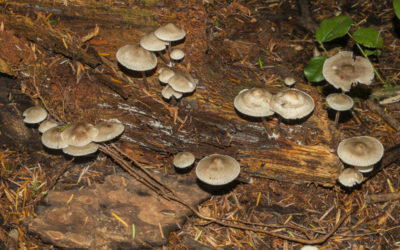 by David Ansley, Autumn 2019 Photos by John F. Williams, except where notedPhoto by John F. WilliamsBy David Ansley, Autumn 2019 Photos &  video by John F. Williams except where notedMushrooms? I don't know how I missed them. I grew up deep in a second-growth...
PLEASE HELP SUPPORT
SALISH MAGAZINE
This is one way you can help us inspire people with stories about things that they can see outdoors in our Salish Sea region.
Thanks so much for your interest and your support. 
In case you hadn't noticed, Salish Magazine contains no advertisements to distract from the stories we bring you about our natural world. But the costs of producing and delivering the magazine have to be paid somehow.