THREE MUSHROOM POEMS
by Mahathi Mangipudi, Autumn 2019
Photos by John F. Williams, except where noted
THREE MUSHROOM POEMS
By Mahathi Mangipudi Autumn 2019
Photos by John F. Williams except where noted
Equinox
~ s p r i n g ~
fragile buds twist and turn,
bloom under warm rays of pastel gold
nutrients taken from underground
feed and nourish
building growing plants
life starts anew,
greenery misted with dew
~ a u t u m n ~
fiery reds and oranges
drift down slowly, under
whispering tendrils of wind
those nutrient rich leaves
mount and pile
caps grow,
and saprotrophs triumph
the reign of Boletes and Parasols
digesting and breaking down
bringing the nutrients back underground
truffles
delicate frills
rooted cultures
underground fungi
pungent flavors
rich delicacy
unique palate
yet still
part of
mother nature's
game
I saw a sponge that was black with ruffles
Its weird shape and unknown identity led to kerfuffles
Tasty and pungent, despite growing underground
Overharvested to the point of no rebound
With exquisite flavor and delicate features we called them truffles
Mahathi Mangipudi is a junior at Interlake High School. She is a social activist, avid debater, and an environmental enthusiast. She represented the United States at the 2018 International Earth Science Olympiad in Thailand, where she earned a bronze and silver medals. She is pushing for local change towards a more sustainable community through the creation of the first Student Climate Action Plan. Mahathi is currently researching at the University of Washington on environmental issues. She teaches earth science and biology to elementary and middle schoolers through a non-profit organization. She also teaches local elementary school students about the importance of environmental conservation. She loves writing spoken words and has performed her work at various conferences.  Mahathi monitors local streams and restores habitats through a local environmental organization. When she isn't advocating for environmental sustainability, Mahathi can be found hiking, swimming, writing poetry and singing in a community choir. 
Table of Contents, Issue #5, Autumn 2019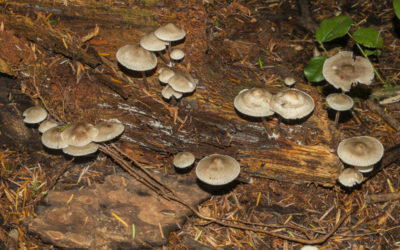 by David Ansley, Autumn 2019 Photos by John F. Williams, except where notedPhoto by John F. WilliamsBy David Ansley, Autumn 2019 Photos &  video by John F. Williams except where notedMushrooms? I don't know how I missed them. I grew up deep in a second-growth...
PLEASE HELP SUPPORT
SALISH MAGAZINE
This is one way you can help us inspire people with stories about things that they can see outdoors in our Salish Sea region.
Thanks so much for your interest and your support. 
In case you hadn't noticed, Salish Magazine contains no advertisements to distract from the stories we bring you about our natural world. But the costs of producing and delivering the magazine have to be paid somehow.