MORE MUSHROOMS: ANOTHER PHOTO ESSAY
by Catherine Whalen, Autumn 2019
Photos & video by Catherine Whalen except where noted
MORE MUSHROOMS: ANOTHER PHOTO ESSAY
By Catherine Whalen, Autumn 2019
Photos &  video by Catherine Whalen except where noted
I found the above mushroom in my front yard one afternoon and it reminded me of a fan vaulted cathedral ceiling. This made me wonder if the architects who invented such glorious structures were inspired by their own walk in the woods. I like to think so. Below is a broader (uncropped) view of the vaulted ceiling.
Fan vaulting in the ambulatory at Peterborough Cathedral, NotFromUtrecht / CC-BY-SA-3.0
and now for something completely different…
Photographs and artwork by Catherine Whalen.
variety anyone?
Click on a mushroom below to see the gallery of photos full-sized.
Catherine Whalen has been passionate about science and the natural world since she was in pre-school.  As an artist and photographer, she indulges her passion for Nature by creating photographic Nature Mandalas and taking portraits of the flora and fauna of Kitsap and Olympic Peninsulas.  Her favorite subjects are anything intertidal.  She resides in Bremerton with two senior rescue dogs.  Catherine's Nature Mandalas can be viewed at:

https://www.soulful.life/about-our-nature-mandalas

.  She can be contacted at:

Catherine@Soulful.Life
.
Table of Contents, Issue #5, Autumn 2019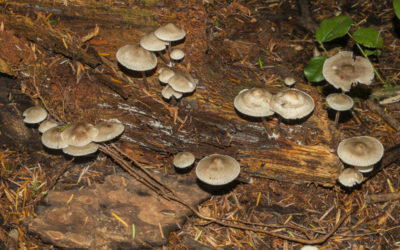 by David Ansley, Autumn 2019 Photos by John F. Williams, except where notedPhoto by John F. WilliamsBy David Ansley, Autumn 2019 Photos &  video by John F. Williams except where notedMushrooms? I don't know how I missed them. I grew up deep in a second-growth...
PLEASE HELP SUPPORT
SALISH MAGAZINE
This is one way you can help us inspire people with stories about things that they can see outdoors in our Salish Sea region.
Thanks so much for your interest and your support. 
In case you hadn't noticed, Salish Magazine contains no advertisements to distract from the stories we bring you about our natural world. But the costs of producing and delivering the magazine have to be paid somehow.